Broom Finish
California Finish
Architectural Finish
Pattern Finish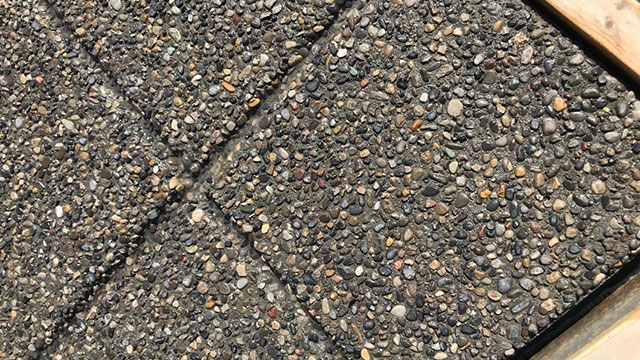 Exposed Finish
Concrete
Today's concrete can be made more durable and stylish with a variety of finishes and colours, offering the homeowner never-ending design possibilities.
The standards for our projects are very high and we adapt our services to meet the needs of our customers by continually enhancing, upgrading and providing good product diversity.
Broom Finish
Broom Finish concrete is durable, and the most common concrete you will see around. It is also the cheapest option yet still gives you a clean look.
California Finish
California Finish is similar to broom finish but allows us to be more decorative and creative with control joints. You also have the option of choosing wide or thin control joints to get a look you prefer. While the finish looks very similar, the main difference is there are no highlights around the edges or control joints.
Architectural Sandblast with Saw Cuts
Architectural Sandblast is a very modern/stylish look and is preferred by designers in modern architecture. This is a clean and sleek look that makes any pool deck or patio look sharp. The concrete is essentially the same as a smooth garage pad, but after the concrete is cured it gets a very light sandblast to open the pores so the concrete looks dull and porous.
Concrete Patterns
Pattern Concrete is a highly innovative procedure of stamping freshly poured concrete to simulate the look of brick, cobble stone, slate and many other designs. It is a great way to add style and decor to your home with the many pattern options to choose from, as well as a multitude of colour variations to achieve almost any look imaginable.
Pattern Concrete is a durable and decorative way to customize any patio or sidewalk. Pattern Concrete is created when a specially formulated release agent is floated onto the surface of the freshly poured concrete, which is then stamped with the use of a textured mat to give a variety of textures and designs to the concrete. In the end you are left with a beautiful and individual pattern that adds beauty and value to any residential or commercial property.
Exposed Concrete
Exposed Aggregate concrete is a decorative style of concrete suitable for a driveway, sidewalk, patio or even steps. Exposed Aggregate provides a visual interest for your home with many colours to choose from, giving your project a unique sense of style. Exposed Aggregate is highly versatile and contrasts beautifully with broom finish concrete or other decorative treatments such as Pattern Concrete.
An Exposed Aggregate finish gives you a spectacular look and the surface is considered the most durable concrete available. Because of its durability and resistance to weather and heavy traffic, there is little maintenance required. Occasional washing of the concrete and the application of a transparent concrete sealer can greatly extend its life and help protect it from the harshest of conditions such as dusting, stains and abrasion.
Concrete Care
Concrete FAQ
Delcor Concrete Styles (PDF)